The last time you heard from us, we had submitted the petition to the state to complete Connect the Comet and CSX had given the state a portion of the railroad needed. We thought our work was finished and construction of the trail would start soon.
That was 2019.
Now, four years later, we are still at the same place we were 4 years ago. In the past few months, we have restarted our advocacy efforts to do our part to see the Silver Comet Trail connected with the Beltline and City of Atlanta.
So where are we at today?
Here's a recent update from the Cobb County Courier
The trail can be split into 3 parts:
Northern (Silver Comet to Plant Atkinson Road)
Central (Plant Atkinson Road to the Chattahoochee River)
Southern (Chattahoochee River to Beltline)
Northern Portion Update
This is the rails-to-trails portion that follows the former railbed where CSX Railroad donated their former Right of Way to the State of Georgia. This portion is funded in partnership with the PATH Foundation and is currently in legal limbo between GDOT and CSX. We are cautiously hopeful an agreement gets finalized in the near future and construction starts soon!
Central Portion Update
This portion deviates from the railbed and travels along Atlanta Road to the river. This portion is fully funded and is expected to start construction in Summer 2023 with completion in 2024.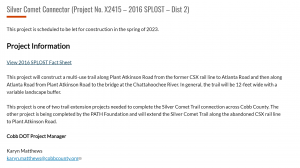 Southern Portion Update
Currently, the Whetstone Creek Trail already exists and with some improvements would provide a route between the river and the Beltline. We are working with the City of Atlanta to improve connections and access to this portion of the trail.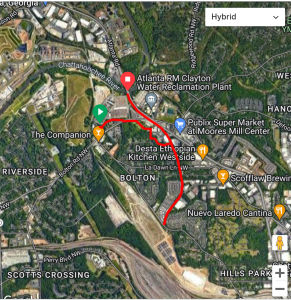 So what are we doing?
Silver Comet Leadership met for the first time in years in March 2023 and hosted our first event on April 15th.
You've probably seen us communicating on our platforms, including Facebook and our newsletter.
We're also hosting monthly Trail Showcase events.  You can see upcoming events here: http://www.connectthecomet.org/index.php/events/
What can you do to help?
Here's a quick list on what you can do to help out:
Post or share on your social feed (tag us or use #ConnectTheComet)
Display a Connect the Comet sign
Become a leader