Reports- Events and Actions Taken since 5/21/2017
6/15/17 – Tony & Wendell met with Zack Gober with LaVista Associates
6/21/17 – Roberta interviewed by CBS 46, Will Frampton, reporter shared on Atlanta's Upper Westside page

6/28/17 – PETITION DELIVERY:
Roberta, Keith, Steve and Celeste traveled to the State Capitol and presented the Connect the Comet Petition with letter to Governor Deal's office.
"This morning​, four leaders of​ our​ Connect the Come​t group ​(Roberta, Celeste, Keith​ and​ Steve) delivered our nearly 4000​-​signature​ ​petition​ ​to Governor ​Nathan ​Deal's office at the Capitol​, ​requesting ​​​​the State of Georgia ​to ​​acquire the unused CSX ​right-of-way needed to extend the ​Silver Comet ​Trail southeast into Atlanta and connect ​it ​with the popular Atlanta BeltLine Trail.​​ Later this afternoon, WSB C​hannel 2 ​N​ews ​(ABC) ​interviewed me at ​the right-of-way crossing on ​Plant Atkinson Road​ to see ​that the crossing has been completely paved over so the CSX ​tracks are no longer used. The Marietta Daily Journal ​has posted ​a story, and ​an Atlanta Journal​-Constitution story is ​coming.​"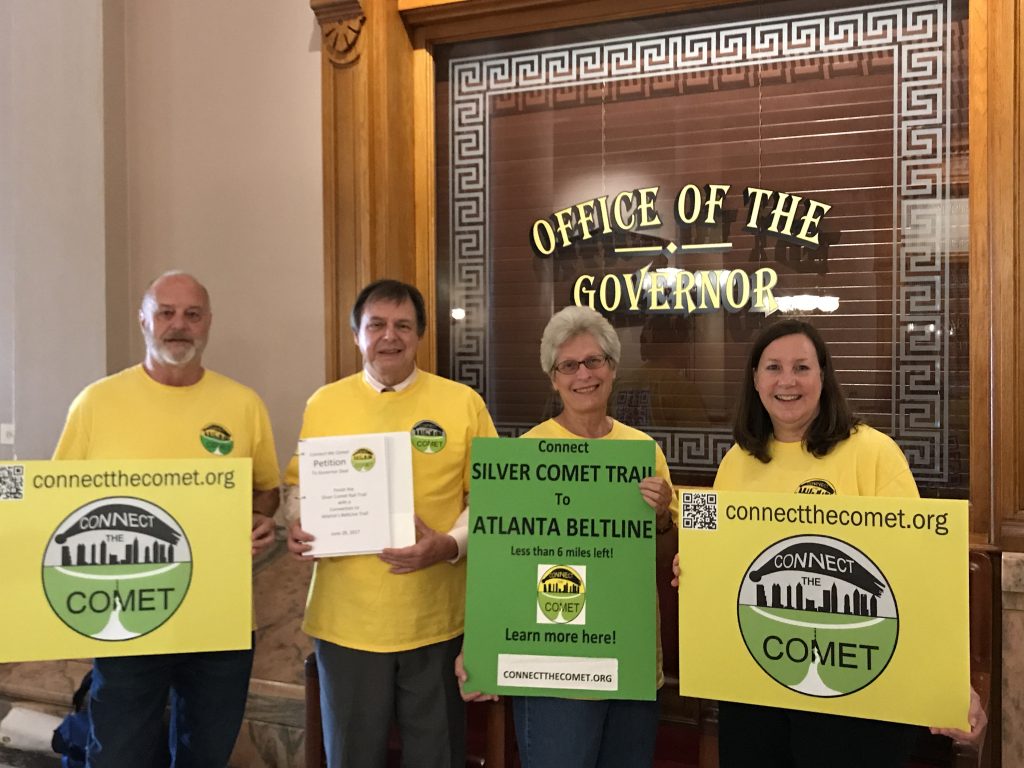 See links below.
6/28/17

Reports published by Megan Reed of the Marietta Daily Journal, Meris Lutz of the AJC and Edgar Treiguts of WSB Radio
Dan Colestock posted article to Nextdoor.com
Wendy Corona reported for WSB TV featuring Ed McBrayer of PATH and Roberta
Haisten Willis wrote about us on Riveredges.com (also Jan 2017)
Ed McBrayer did an in depth interview with WABE NPR that aired July 3-4
6/29/17 – Josh Green article on Curbed Atlanta- (Michael Kahn also did one 1/6/2017)
7/11/17 – Ed McBrayer reports he is working on it "from a different angle"
7/15/17 – Thank you note from the Governor's office, but told to work through local state legislators
7/17/17 – Max added PATH map to website
7/20/17 – Roberta sent State Reps the petition with signed cover letter Georgia House Representatives: Rich Golick, Shelia Jones, Georgia Senators: Hunter Hill, Horacena Tate
8/21/17 – PATH publishes article in their newsletter "IT'S TIME TO CONNECT THE COMET." Roberta spoke with Cobb Commission Chairman at a public meeting
8/28/17 – Roberta followed up with State Rep Rich Golick –requested support with Governor's office, invited him to this meeting. Roberta has been referred to "Taylor " in Constituent Services in the Governor's Office
9/8/17 – Tony got an update from State Property officer Steve Stancil
Media Coverage of Connect the Comet & Petition Delivery